A recent report by S&P Global Market Intelligence states that the metals sector is set to continue its rebound from the effects of the covid-19 pandemic through 2022.
According to the document, pent-up consumer spending, government stimulus efforts and the accelerating energy transition will continue to drive demand, prices and exploration budgets.
In the view of S&P's Metals and Mining Research team, the upswing in demand growth will drive prices higher across a range of metals in the medium term.
"While prices may moderate through 2022 as pandemic supply issues ease, building demand — due to factors including the growth of the electric vehicle sector and the energy transition — should set the stage for historically above-average prices through to 2025," the report reads.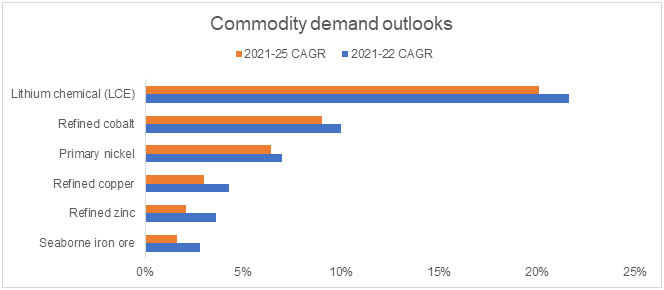 (Graph by S&P Global Market Intelligence).
Looking at specific commodities, the S&P review forecasts an increase in iron ore price volatility into 2022 due to the combination of underlying market tightness, potential supply disruptions and project delays, global supply chain issues and power constraints.
When it comes to copper, the paper predicts global copper demand from solar and wind energy generation to reach 852,000 tonnes by 2022 and the growing electric vehicle market to account for 1.1 million tonnes in 2022.
For most metals, margins are also expected to remain healthy in 2022 following the high prices and relatively steady costs experienced by most producers in 2021. However, S&P sees rising input costs and moderating prices as representing downside risks for margin levels across several commodities.
When it comes to exploration, the expected increase in demand and strong prices is expected to help drive budgets up to 15% higher in 2022, though they will remain below the $20.5-billion record seen in 2012.
"Financings by junior and intermediate companies totalled $14.8 billion for the first nine months of 2021 — well above the $12.1 billion raised in all of 2020," the dossier reads.
"Should this trend continue through the first few months of 2022, we expect the year's global exploration budget total to be 5%-15% above 2021 levels, led by gold and commodities key to the energy transition effort." | MINING.COM