"The 12th Cored Wire Industrial Summit" hosted by Cored Wire Industry Association of China and Ferro-Alloys.com will be held in Rizhao City, Shandong Province from August 16 to 18, 2018.
As a big country of steel -smelting and casting, China has increasingly higher requirement on quality of steel and cast-iron. High quality and technologies of cored wire products have become constant goals of production enterprises. The usage amount of various cored wire products is also increasing in the process of steel-smelting. Particularly, In particular, various iron and steel enterprises have begun to use solid calcium wire widely, which is a trend to replace other alloy cored wires.
Secondly, there are numerous varieties of cored wire products such as calcium silicon, metal calcium, ferro-calcium, magnesium powder, iron powder, aluminum powder, carbon powder, boron iron, phosphorus iron, titanium iron, rare earth silicon magnesium, chromium iron nitride, manganese iron nitride, ferro-silicon nitride, silicon barium, silicon-calcium barium, silicon-aluminum-iron, silicon-calcium barium aluminum, etc., In the process of using powder to make cored wire, all enterprises should pay high attention to safe production. Additionally, national safety supervision department requires powder processing and production enterprises must have safe production certification issued by relevant department.
Meanwhile, raw material and cored wire production enterprises should meet the requirement of environmental protection and achieve energy-saving and environment-friendly production. It is a necessary condition for survival and development of any enterprise.
Experts of relevant technical sections, steel and casting industry, scientific research academies and industrial analysts, raw material of cored wire and production enterprises will be invited to attend this conference to discuss hot point topics of the industry such as current situation of market and development trend of cored wire products and raw materials, cored wire product innovation and technical application, quality demand of steel and casting industry to cored wire, industrial self-discipline and production and sale of cored wire products by using Internet plus.
Cored wire environment-friendly production enterprise election will be held at the same time. The enterprises' active participation is expected.
★Notice of Related Matters:
Ⅰ. Venue: Rizhao Sovereignty Hotel (No. 288, Haiqu East Road, Donggang District, Rizhao City)
Ⅱ Conference Agenda (Provisional):
August 16

Check in and Business Negotiation

p.m. 13:30 to 18:30

Registration, signing on signature wall and taking photos, "one to one" business negotiation, presenting product information of key enterprises.

15:00-16:00

Enlarged meeting of directors of Cored Wire Industry Association

August 17

Conference Report

(Ⅰ)

a.m. 08:30 to 08:35

The sponsor's Speech

a.m.08:35 to 09:35

Development Trend of Chinese Iron and Steel Industry

- Division Chief Wu Jingjing, China Iron and Steel Association

a.m. 09:35 to 10:35

New Type Cored Wire Technology 2018 Assists Green Intelligent Manufacturing China 2025.

Wu Yubin, General Manager of Harbin Coredwire Metallurgy Material Stock Co., Ltd.

a.m. 10:35 to 11:10

External Refining of Iron and Steel and Application of Cored Wire

Liu Bochi, Director of Heilongjiang Metallurgy Institute

a.m. 11:10 to 11:25

Question answers and tea break

a.m. 11:25 to 11:55

Application Prospect of Solid Calcium Cored Wire

- Yang Jingjun, General Manager of 北京思创科林科技有限公司

a.m. 11:55-12:25

Influence of Quality of Steel Strip on Quality of Cored Wire Products

- Wang Lianying, Deputy Manager of Sales, Dongyang Metal Products Co., Ltd. of Zhao County

p.m. 1225 to 14:00

Lunch

(Ⅱ)

p.m.14:00 to 15:00

Analysis on Application of Wire Feeding Spheroidization Process

- Li Ming, Nanjing Dafeng Intelligent Casting Technology Co., Ltd.

p.m. 15:00 to 16:00

Cored Wire Product Invention Patent Protection and Industrial Self –Discipline

Zhao Binglong, General Manager of Dongdaihe Jialian Technology Co., Ltd.

p.m. 16:00 to 16:30

Analysis on Development of Chinese Cored Wire Industry and Current Situation and Trend of Main Raw Material Market

- Tian Yawei, Market Expert of www.ferro-alloys.cn

p.m. 16:30 to 17:30

Upstream and Downstream Symposium of Cored Wire

p.m. 18:00 to 20:00

Banquet (Award Presentation for Cored Wire Green Environmental Protection Production Enterprises)

August 18

Business Investigation
Ⅲ. Charging Standard:
1. For member units of www.ferro-alloys.cn: before July 15, 2,900 yuan per person; after July 16, 3,000 yuan per person;
For nonmember units: before July 15, 3,000 yuan per person; after July 16, 3,500 yuan per person;
(The said expenses include attendance fee, information fee and meal fee and exclude factory visit fee and accommodation fee; for any enterprise that joins in VIP members of www.ferro-alloys.cn during the period of conference application, 1 person is free of charge for attendance. For any enterprise which more than 2 persons attend, channel advertisement of the website for half a year or roll screen is presented free of charge.)
2. Charges for advertisement and exhibition booth (It is optional. The companies in need contact the organization committee).
a. Colour cover: 5,000 yuan; b. Colour back cover: 3,000 yuan; Colour inside front cover: 2,500 yuan;
d. Colour inside back cover: 2,000 yuan; e. Colour inside page: 1,000 yuan; f. Roll screen shelf: 1,000 yuan; g. Conference information: 3,000 yuan; h. Video display: 1,000 yuan.
3. Technical Report Contribution
Scientific researchers are welcome to contribute. The contribution fee payment is published on the conference. The subject may be technical improvement of cored wire, equipment innovation or raw material innovation. E-mail for contribution: info@ferro-alloys.com; Conference@ferro-alloys.com
Wechat: 2668876619
Ⅳ. Cored wire environment-friendly production enterprise election (See also the Appendix)
1. Declaration Scope
Qualification: Legal operating production enterprise
Products: Varieties of cored wire (including silico-calcium, pure calcium, rare earth magnesium silicon, ferro-boron, ferrotitanium, nitralloy, etc.)
2. Date of Declaration
July 30 to August 10, 2018
3. Declaration Methods and Conditions
Declaration is voluntary and election participation is free. The candidate enterprise must be official representative of the conference or member enterprise of www.ferro-alloys.cn.
4. Materials for Declaration
Materials for declaration shall be submitted. The scanning copy is sent to info@ferro-alloys.com
5. Date of election
Date of election is August 13, 2018. At the scheduled time, the list for candidate enterprise will be published. The final results will be produced according to the election results via WeChat network + comments of Review Committee
6. Commend and Awards
- Medal and certificate
- Propaganda and report via www.ferro-alloys.cn and WeChat official account
- Meritorious deeds popularization in the industry
- Preferential recommending upstream and downstream cooperators and export purchasers
Ⅴ. Hotel Booking: If the attending enterprises need to book a hotel, please contact the organization committee.
Ⅵ. Contact Information of the Organization Committee:
Contact Persons: Yu Ting, Shi Qin
Mobile Phone: 18611148733 15151409133
Telephone No.: 010-87760688 Fax: 010-87776388 ext 810
Website: http://www.ferro-alloys.com;
Email: conference@ferro-alloys.com
Official WeChat No.: FA9988COM (for the latest information of the conference)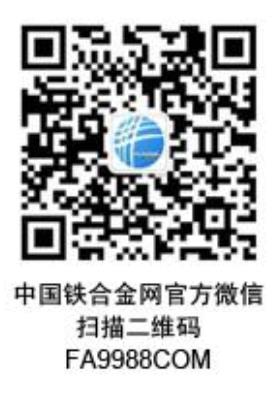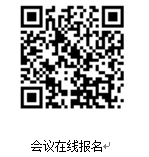 www.ferro-alloys.cn
June 12, 2018