[Steel tender] Steel tender of April completed with a decrease of 200-300 yuan per ton and steel tender of May started with a price reduction of about 50-100 yuan per ton compared with that in April. The big plant didn't release any information right now, and the industry expected price will be about 5600 yuan per ton.
[Ferrosilicon exports] According to customs statistics, China exported 46872.81 tons of ferrosilicon in March 2020, and 81251.33 tons of ferrosilicon from January to March. The export volume in March was significantly better than that in January February, but the overall volume was still significantly lower than that in the same period last year. At present, the export market is still sluggish in general.
[Spot market] In March, the inventory of ferrosilicon once exceeded 400 thousand tons. In April, the industry combined peak avoiding production, and the inventory dropped significantly. At present, there is no too much pressure. In the last ten days of April, the rise of futures market boosted some confidence in the spot market. With the increase of transportation cost in May, the purchasing atmosphere improved, manufacturers became stronger on keeping price higher and the price rose slightly by 50-100 yuan per ton. It is expected that there will be a round of price adjustment in May, and the enterprise's operating rate and output will also show an upward trend. However, the downstream demand and market activity cannot be ignored, and the future trend depends on the change of supply and demand.
[Ferrosilicon Futures 2005 contract] Opening price of ferrosilicon futures 2005 contract of April was 5474, highest price was 5864, lowest price was 5452, closing price was 5830 and the settlement price was 5808. The positions were 41345 and the trading volumes were 1294992.
Below are ferrosilicon futures main contract 2005 performances in April: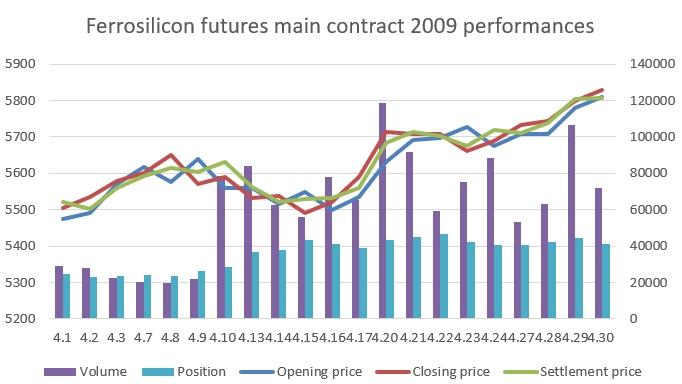 [Steel market] Since April, with various construction projects resumed, the market demand for steel has gradually returned to normal, the profits of steel mills are relatively stable, and the enthusiasm for production is strong. It is expected that in May, there will be a high-supply, high-demand and high-inventory situation, and the market price will be strong and vibrated. Pay attention to the actual supply and demand situation of each region and the change of international epidemic situation.
[Metal Magnesium market] Overall weak and stable. Market demand is still weak, but the general inventory pressure of the factory is not too high, and the space for magnesium price adjustment is limited, it may continue to be weak and stable.