[Market trend] Yulin, Shaanxi Province, will reduce the price of electricity from June 1, 2020. Electric power accounts for the largest part of ferrosilicon production cost, and the reduction of electricity price will naturally reduce the cost of ferrosilicon smelting. On the other hand, it is estimated that a 1 cent reduction in electricity price will reduce the production cost of ferrosilicon by about 70-80 yuan per ton. As for the current market as a whole, the impact may not be too great.
[Steel tender] Xiangtan Iron & Steel released its ferrosilicon tender price of June, which was 5930 yuan per ton, and increase of 290 yuan per ton than May and the volume was 1800 tons. It is expected that the price of steel bidding will continue to rise to 5900-6000 yuan per ton in June.
[Spot market] This week, the operation of ferrosilicon market is relatively strong. In the environment of tight spot, relatively high demand, rising steel bidding price and rising futures market, the confidence of manufacturers has increased. In addition, the transportation cost has increased, and the spot price of ferrosilicon has increased by about 50-100 yuan per ton. It is expected that the market would continue to be strong in the short term.
[Ferrosilicon futures 2005 contract] Opening price of ferrosilicon futures 2005 contract of this week was 5850, highest price was 5992, lowest price was 5782, closing price was 5880 and the settlement price was 5920. The positions were 67923 and the trading volumes were 382246.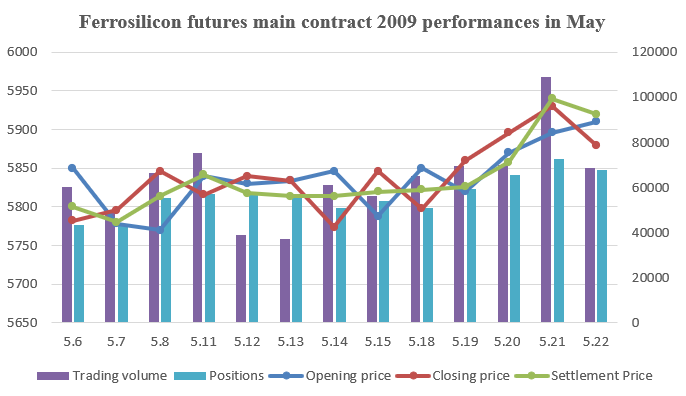 [Steel market] According to the latest statistics of CISA, China's steel price index keeps rising in May. At the same time, in order to ensure the air quality during "Two Sessions", some iron and steel enterprises will start to stop and limit production, which will reduce the market supply pressure to a certain extent, and factors such as the continuous decline of inventory and the accelerated release of demand-including the strong expectation of resumption of production of overseas automobile factories and the release of the demand in domestic construction industry, are favorable, the steel price will therefore rise slightly.
[Metal Magnesium market] The current cash quotation including tax of 99.9% magnesium ingots in fugu area was around 13200-13300 yuan per ton.