[Steel Tender] The price of steel bidding in October rose by 40-100 yuan per ton than that in September, which boosted the confidence of the ferrosilicon market; as the end of the month approaches, steel bidding in November will be launched, bringing about the new release of downstream demand. From the known steel plant bidding information, prices continue to rise, which made the situation optimistic.
[Spot Market] In October, the ferrosilicon market continued to run strongly. Although the futures market fluctuated and fell since the last ten days, it has not yet brought obvious impact on the spot market: spot supply still tight, the price of semi-coke moves up, and the production cost of ferrosilicon increases; the steel bidding price rises, the demand remains stable and strong, and the market sentiment is optimistic as a whole. It's expected to remain stable in the short term. Pay attention to the supply and demand change of ferrosilicon and the trend of futures market.
[Ferrosilicon Exports] The export market of ferrosilicon continued to improve slowly in September. According to data of China Customs, in September 2020, China's export of ferrosilicon (silicon content > 55%) was 17546.036 tons, an increase of 24.8% month on month and a decrease of 21.68% year-on-year; and export of ferrosilicon (silicon content ≤ 55%) was 1303.5 tons, a decrease of 1.97% month on month and a decrease of 55.44% year-on-year.
[Ferrosilicon Futures 2010 Contract] Opening price of ferrosilicon futures 2010 contract in October was 5,734, highest price was 6,046, lowest price was 5,704, closing price was 5,774 and the settlement price was 5,796. The positions were 52,118 and the trading volumes were 960,573.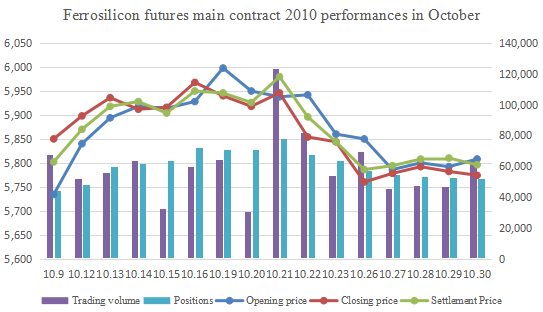 [Steel Market] In October, the blast furnace operating rate remained at a high level, and the demand for ferrosilicon remained stable and vigorous. The industry believes that in the short term, the demand is expected to further increase at the end of the year and still at a high level. On the supply side, factors such as stricter environmental protection and reduced imports will help to reduce the high level of steel inventory. But on the whole, the possibility of "strong supply and weak demand" cannot be completely ruled out in the fourth quarter, and the steel market will be in a state of fluctuation.
[Metal Magnesium Market] The domestic magnesium market once rebounded strongly and the price continued to rise in October. However, due to the lack of demand orders and lack of purchasing support, the price of magnesium metal gradually declined in the last week of October. Current cash quotation including tax of 99.9% magnesium ingots in Fugu area was around 12500-12600 yuan per ton.