[Steel tender] The steel mills successively released the steel bidding information in November, and the prices continued to rise compared with October, with different ranges, which further strengthened the confidence of ferrosilicon manufacturers. The first inquiry price of HBIS Group is 6100 yuan per ton, which is equal to the bidding price of last month. According to the past experience, its actual bidding price in November is expected to increase by 50 yuan per ton on the basis of inquiry.
[Spot market] Data of the first week of November showed that the operating rate and output of ferrosilicon plants had a slight upward trend. However, under the favorable conditions, such as the rising steel bidding price, the strong performance of raw materials, the slightly positive downstream purchase inquiry, and tight spot, especially the increase in futures price this week, the ferrosilicon spot market is more confident. Focus on the change of supply-demand relationship, the change of futures market, the trend of raw material price and the final bidding information of steel mills.
[Ferrosilicon futures 2101 contract] Opening price of ferrosilicon futures 2101 contract of this week was 5,794, highest price was 6,006, lowest price was 5,782, closing price was 6,002 and the settlement price was 5,944. The trading volumes were 316,736 and the positions were 77,372.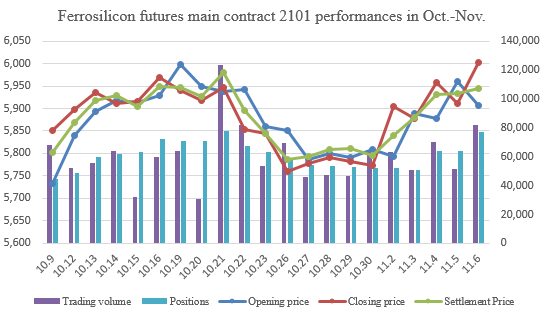 [Steel market] Statistics show that this week, the national main steel social inventory was 12.2981 million tons, a decrease of 790700 tons compared with last week; the output increased slightly on a weekly basis; and at present, the demand is still at a relative high level within the year, the overall market sentiment is good, and the steel price may continue to run with strong shocks in the short term.
[Metal magnesium market] This week, the magnesium market is running smoothly, and the overall inventory pressure is not great, in addition, the prices of ferrosilicon and coal are relatively stable, and magnesium manufacturers have strong willingness to support prices, but the demand side has not improved significantly. It is expected that the magnesium market will continue to maintain stability in the short term, Current cash quotation including tax of 99.9% magnesium ingots in Fugu area was around 12600-12700 yuan per ton.