[Raw Materials Market] The semi-coke plants are expected to cut down production by 35% and the price is expected to reach 1150 yuan per ton, which boosted the ferrosilicon market.
[Steel Bidding] CITIC released its ferrosilicon 72# bidding price at 7300 yuan per ton, which increased by 750 yuan per ton than the previous month; Guangxi Iron and Steel Group's bidding price was 7380/7500 yuan per ton with a total volume of 10000 tons; Shagang Group's bidding price set at 7180 yuan per ton, an increase of 780 yuan per ton vs. last month.
[Spot Market] Higher raw materials price and bidding price, tight spot and strong futures market, the ferrosilicon spot market remain strong this week. The quotation of some plants increased and big plants still unwilling to quote. Focusing on the change of supply-demand relationship (the production may increase), the change of ferrosilicon production cost (including freight condition and electricity cost), futures market trend and the new round of steel bidding.
[Ferrosilicon Futures 2101 Contract] Opening price of ferrosilicon futures 2101 contract of this week was 6,650, highest price was7,200, lowest price was 6,610, closing price was 7,200 and the settlement price was 7,076. The trading volumes were 1,076,700 and the positions were 106,026.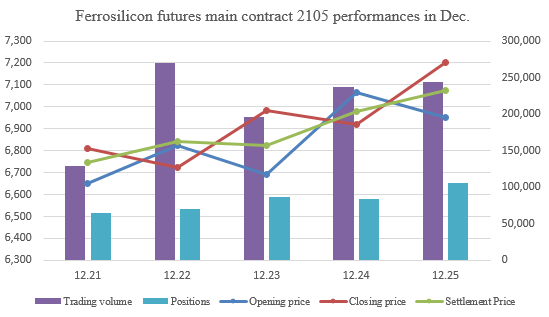 [Steel Market] Low demand in off-season, most transactions were dealt at low price, winter storage plus cost pressure, steel production and inventories have a small decline this week, the steel market is expected to be weakly shock in a short term.
[Metal Magnesium Market] Raw material including ferrosilicon and coal continued to be relatively strong, as well as the impact of environmental protection and production restriction, metal magnesium price rose slightly this week, and it is expected to be relatively strong in the short term. Current cash quotation including tax of 99.9% magnesium ingots in Fugu area was around 15300-15400 yuan per ton.

-----------------
-----------------
Scan QR code for registration
----------------
-----------------