[Steel Bidding] According to market news, the latest ferrosilicon bidding price of some steel plants has surpassed 8000 yuan per ton.
[Spot Market] This week, the domestic ferrosilicon market is still running well, most of the manufacturers are still tight in the spot; the policy of energy consumption control and electricity price rise still play a role, plus the futures market is higher, and the inquiry is relatively positive, which drives the confidence of the ferrosilicon spot market better, and the price rises. According to Ferro-alloys.com, the quotation of 72# ferrosilicon in Qinghai is 7200 yuan per ton this week, and the market is expected to continue to run steadily and strongly in a short time.
[Ferrosilicon Futures 2101 Contract] Opening price of ferrosilicon futures 2105 contract of this week was 7,602, highest price was 7,980, lowest price was 7,412, closing price was 7,412 and the settlement price was 7,654. The trading volumes were 2,887,168 and the positions were 161,345.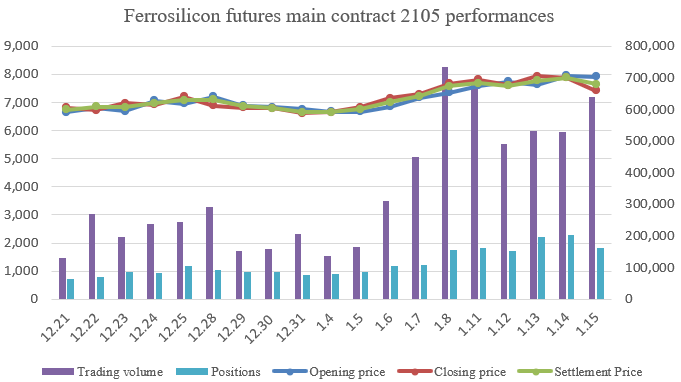 [Steel Market] In early January 2021, China produced 29.2538 million tons of crude steel, with a daily output of 2.9254 million tons, a month on month increase of 1.14% and a year-on-year increase of 10.40%; the stock of steel warehouse of key statistical iron and steel enterprises was 13.027 million tons, an increase of 1.459 million tons and 12.10% compared with the previous ten days (that is, the beginning of the year), and an increase of 2.5248 million tons, or 24.04% vs. the same period last year. Currently, the mood of steel spot market is relatively low, the price of raw materials is strong, the market's willingness of winter storage is low, the transaction is general, the contradiction between supply and demand is gradually accumulated, and the steel price may be weak in the short term.
[Metal Magnesium Market] This week, the magnesium market was strong first and then weak. At the beginning of the week, the price increased slightly. At the later stage, due to the downstream cautious wait-and-see and the strong willingness of factories to transact, the price was slightly loose. Current cash quotation including tax of 99.9% magnesium ingots in Fugu area was around 14200-14300 yuan per ton.