[Spot Market] After the Spring Festival holiday, ferrosilicon spot market gradually returned to normal operation. Although under the influence of multiple factors such as environmental protection policies, there is no lack of wait-and-see sentiment in the industry. Many manufacturers say that they didn't start to quote yet, but a new round of steel bidding is around the corner, and the futures market is generally higher than that before the festival. Although manufacturers are accumulating due to the Spring Festival holiday and transportation and other reasons, the pressure is small and the speed of inventory consumption is obvious. The overall sentiment of ferrosilicon spot market is still good. Focus on the progress of the new round of steel bidding, futures market trend, the specific impact of environmental protection policies in main production areas and the change of supply and demand relationship in main production areas.
[Ferrosilicon Futures 2105 Contract] Opening price of ferrosilicon futures 2105 contract of this week was 7,186, highest price was 7,410, lowest price was 7,114, closing price was 7,224 and the settlement price was 7,204. The trading volumes were 299,369 and the positions were 120,307.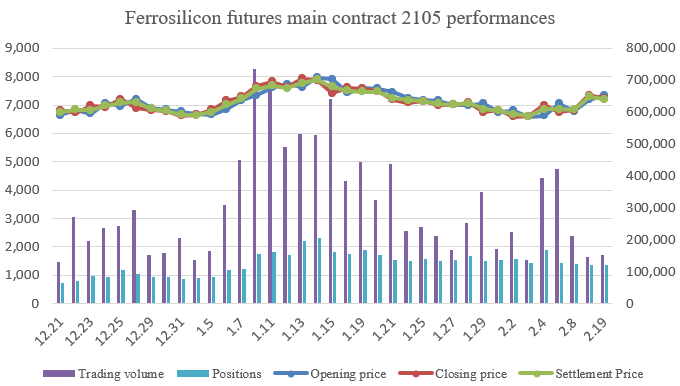 [Steel Market] After the Spring Festival holiday, the futures market rose sharply, driving the spot price stronger. On the other hand, during the Spring Festival, the steel stock continued to accumulate. The data showed that from February 5 to February 17, the total steel stock was 27.89 million tons, an increase of 35.1% compared with that before the festival, and an increase of 62.2% compared with that during the Spring Festival in 2020. However, under the " Celebrate the Chinese New Year on the spot" initiative, not stopping work and returning to work early will also help the economic recovery in the first quarter and boost market confidence.
[Magnesium Market] After the festival, the magnesium market opened steadily, the factory inventory was tight to some extent, and the mainstream quotation was up. Current cash quotation including tax of 99.9% magnesium ingots in Fugu area was around 14300-14500 yuan per ton.