[Ferro-Alloys.com]
The World Steel Association (worldsteel) released its Short Range Outlook (SRO) for 2019 and 2020 on October 14, 2019. In 2019 worldsteel forecasts that steel demand in China will grow by 7.8% to reach 900.1 Mt and the rest of the world is expected to record 0.2% growth to 874.9 Mt. In 2020, Chinese steel demand is expected to grow by 1.0%, whereas steel demand in the rest of the world will grow by 2.5%.
Global steel demand will grow by 3.9% to 1,775.0 Mt in 2019 and will grow by another 1.7% in 2020, reaching 1,805.7 Mt.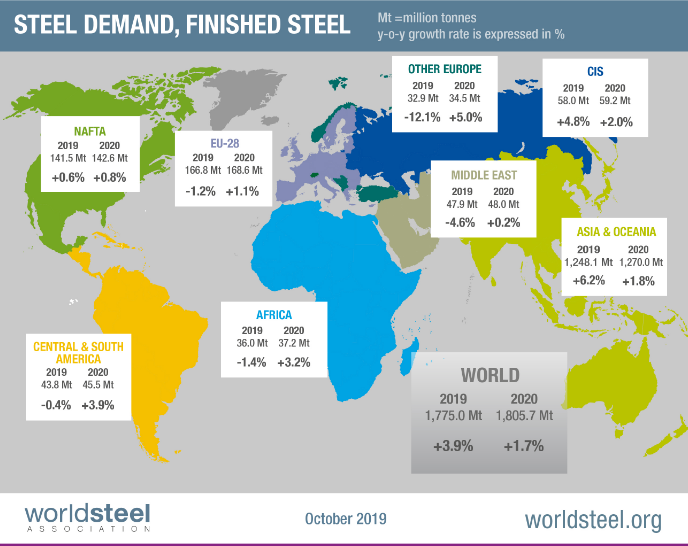 Global steel demand remains resilient despite an uncertain global economic environment, driven by developing and emerging economies
Commenting on the outlook, Mr Al Remeithi, Chairman of the worldsteel Economics Committee said, "The current SRO suggests that global steel demand will continue to grow in 2019, more than we expected in these challenging times, mainly due to China. In the rest of the world, steel demand slowed in 2019 as uncertainty, trade tensions and geopolitical issues weighed on investment and trade. Manufacturing, particularly the auto industry, has performed poorly contracting in many countries, however in construction, despite some slowing, a positive momentum has been maintained.
While the global economic outlook is highly unpredictable, we expect to see further growth in steel demand in 2020 of 1.7%, with emerging and developing economies contributing more. This forecast faces significant downside risks if the current level of uncertainty prevails."
Chinese steel demand showing high growth in 2019 owing to a strong real estate sector, but forecasted to slow down in 2020
Chinese steel demand is expected to grow by 7.8% in 2019, largely driven by real estate investment. In the first seven months of 2019 China's real estate market reported the strongest performance over the same period for the last five years.
China's steel demand is expected to see growth of 1.0% in 2020.
Steel demand in the developed world stagnates with weakening manufacturing
After growing by 1.2% in 2018, steel demand in the developed economies is expected to show a small contraction of -0.1% in 2019. The consumer sectors and construction maintained positive momentum, however manufacturing slumped due to a deteriorating environment for export and investment. In 2020, with the effect of some technical rebound, steel demand in the developed world is expected to grow by 0.6%.
Developing economies present a mixed picture, but high growth is expected in Asia
Growth of steel demand in the emerging economies excluding China is expected to slow down to 0.4% in 2019 due to contractions in Turkey, MENA and Latin America. But the growth is expected to rebound to 4.1% in 2020 due to infrastructure investments, especially in Asia.