[Steel Tender] Steel mills in East China took the lead in releasing the steel tender notice in October. Currently, it has been announced that the bidding price has increased by 50-100 yuan per ton, exceeding the market expectation, which has greatly boosted the factory confidence. Up to the time, representative steel mills have not yet released the latest bidding information.
[Market Information] According to market news: due to the recent rise in coal prices and the shortage of raw coal procurement, Shenmu Semi-coke Group issued a price adjustment notice: it is suggested that from October 1, the implementation of small materials 650 yuan per ton, medium materials 680 yuan per ton, large materials 750 yuan per ton (ex-factory price including tax).
[Spot Market] In September, the ferrosilicon market continued to be stronger, with tight spot and low inventory; under the environment of rising raw material prices as well as steel bidding prices, relatively stable demand of downstream steel mills, and increasingly strong purchasing willingness from traders, the ferrosilicon spot market has been running steadily, and the bullish sentiment became stronger.
[Ferrosilicon Futures 2010 Contract] Opening price of ferrosilicon futures 2010 contract in September was 5,780, highest price was 5,924, lowest price was 5,558, closing price was 5,650 and the settlement price was 5,646. The positions were 4,961 and the trading volumes were 1,151,799.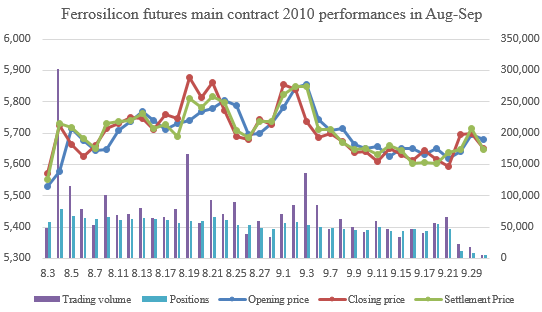 [Ferrosilicon Exports] Overseas demand rebounded slightly, and the export volume of ferrosilicon in August showed signs of improvement. According to statistics of China Customs, in August 2020, China's export of ferrosilicon (>55%) was 14059.663 tons, a year-on-year decrease of 38.97% and a month on month increase of 5.536%.
[Steel Market] Recently, under the pressure of high supply and high inventory, the mentality of merchants was weak. However, due to the restraining effect of environmental protection and production restriction policy, the pressure on steel supply will be gradually reduced. In addition, the demand in the fourth quarter is still resilient and the overseas demand is gradually recovering. China's steel export is also expected to pick up. The steel market may rebound in October.
[Metal Magnesium Market] The metal magnesium market has gradually stabilized in recent time. Although the overall demand has not rebounded significantly, the transactions have improved and the price of magnesium has increased slightly. The current cash quotation including tax of 99.9% magnesium ingots in fugu area was around 12300-12400 yuan per ton.