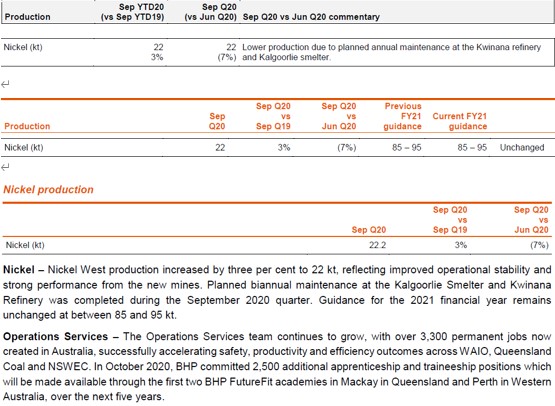 Minerals exploration expenditure for the September 2020 quarter was US$44 million, of which US$27 million was expensed. Greenfield minerals exploration is predominantly focused on advancing copper targets within Chile, Ecuador, Mexico, Peru, Canada, South Australia and the south-west United States.
At Oak Dam in South Australia, the third phase of the exploration drilling program continues to deliver encouraging results. Further high grade mineralised intercepts of copper, with associated gold, uranium and silver, were confirmed. Multiple intervals ranging between 0.24 and 4.20 per cent copper were identified by laboratory assay results from 12 of the 14 drill holes, totalling 21,543 metres. For further details refer to Appendix 1. The exploration project will now be transferred to the Minerals Australia Planning and Technical team for assessment, and next stage resource definition drilling to inform future design is expected to commence in the first half of the 2021 calendar year.
In August 2020, BHP signed an agreement with Midland Exploration to undertake a nickel exploration alliance in north-eastern Quebec, Canada. The main objective of this agreement is to identify, test and develop high quality exploration targets towards the discovery of new significant nickel deposits.
In September 2020, BHP entered into an Option Agreement with Encounter Resources covering the 4,500 km2 prospective Elliott Copper Project in the Northern Territory, Australia. It provides BHP with the right, following the completion of a jointly designed validation program, to enter an earn-in and joint venture agreement to earn up to 75 per cent interest in Elliott by spending up to A$22 million over 10 years.
BHP's acquisition of the Honeymoon Well tenements and a 50 per cent interest in the Albion Downs North and Jericho exploration joint ventures was also completed in September 2020. The Honeymoon Well increases Nickel West's position in one of the world's major Nickel sulphide provinces and the exploration joint ventures provide us with new access to prospective tenements. Several deposits are under consideration and are expected to be included in Nickel West long term plans in the future.