[Ferrosilicon Bidding] Ferrosilicon bidding for steel mills in November is drawing to an end with an average price of around 6170 yuan per ton, which effectively stabilized the confidence of the participants. Under the current situation, steel mills bidding in December is expected to be optimistic, waiting to be revealed.
[Spot Market] This week, the ferrosilicon market is still running stably, higher cost and tight spot (according to Ferro-alloys.com, there are enterprises in Inner Mongolia, Gansu, Qinghai and other major production areas have no choice but to say "they are out of stock now") and the downstream demand side is also strong (crude steel output continues to grow in October, and the metal magnesium market recovers), the confidence of ferrosilicon manufacturers is good, and it is expected that the ferrosilicon market would be stable and strong in the short run, pay attention to the change of supply and demand relationship and the change of futures market.
[Ferrosilicon Futures 2101 Contract] Opening price of ferrosilicon futures 2101 contract of this week was 5,930, highest price was 6,228, lowest price was 5,864, closing price was 6,184 and the settlement price was 6,150. The trading volumes were 590,027 and the positions were 120,204.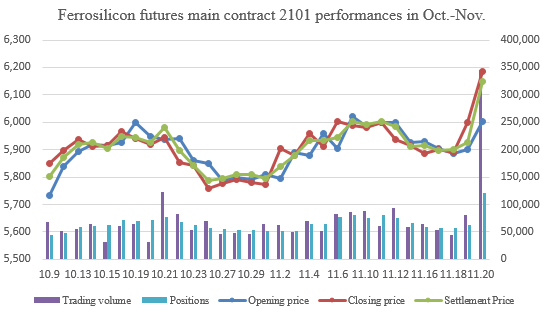 [Steel Market] According to data of the National Bureau of Statistics, in October 2020, China's crude steel output was 92.2 million tons, with a year-on-year increase of 12.7%. From January to October, the crude steel output was 873.93 million tons, with a year-on-year increase of 5.5%. As the largest user end of ferrosilicon, the steel market this year is encouraging. Entering the fourth quarter, the performance of crude steel is still gratifying, and the demand for ferrosilicon remains stable and vigorous. And in view of the current steel price, operating rate and inventory destocking data, crude steel production rate in November would still remain high. Pay attention to the impact of production restriction policy on the supply side, and the off-season effect of steel demand such as the arrival of winter and the slowdown of construction in the north.
[Metal Magnesium Market] In the situation of low inventory pressure, continuously released demand, and strong cost (coal price rises, ferrosilicon price is strong), the metal magnesium price continues to rise this week. Current cash quotation including tax of 99.9% magnesium ingots in Fugu area was around 13200-13300 yuan per ton.