[Raw Material] Market news: on January 14, 2021, Shenmu City, Shaanxi Province held a meeting on transformation and upgrading of the semi-coke industry, which pointed out that the core content of transformation work was to eliminate backward and green transformation, and ordered enterprises to shut down the eliminated units within a time limit. Some people in the industry predict that it will affect 25-30% of the output of semi-coke.
[Steel Bidding] The bidding prices of steel plants in February are close to or even more than 8000 yuan per ton, injecting confidence into the spot market of ferrosilicon.
[Spot Market] This week, the domestic ferrosilicon market has maintained stable and strong operation. Many manufacturers are still "temporarily not quoting" because of tight stock. Some manufacturers' quotations are further rising. On the whole, the quotations are quite different, but generally high. The policy of control of energy consumption in Inner Mongolia has been gradually implemented. Weather factors and epidemic situation in some areas have affected the transportation and the freight is increasing; the steel bidding price continues to rise, and measures of raw material semi-coke industry all bring support to the ferrosilicon spot market. According to Ferro-alloys.com, there are enterprises in Ningxia offering ferrosilicon 72# at 7300 yuan per ton. But on the other, the operating rate and output of ferrosilicon enterprises in the main production areas have increased.
[Ferrosilicon Futures 2105 Contract] Ferrosilicon futures market went down this week.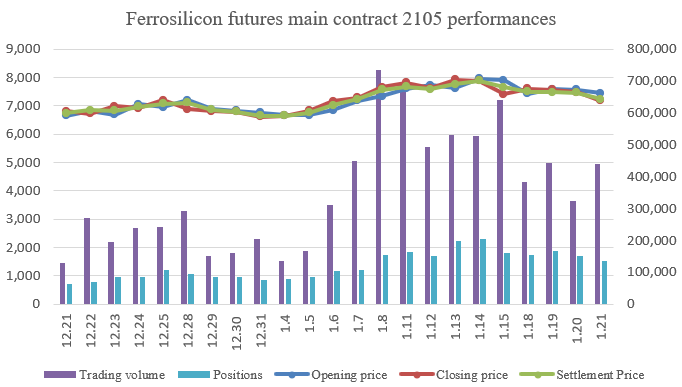 [Steel Market] Under the influence of multiple factors such as low winter operation rate of construction site and approaching Spring Festival, steel demand has been declining again and again, inventory has gradually accumulated, traders' enthusiasm for winter storage is not high, and most of them are cautious. In the short term, the steel market would show a situation of weakening shock. Some people in the industry are optimistic about the steel market in the spring of 2021.
[Magnesium Market] This week, the magnesium market was weakly stable, and the prices of raw materials such as coal and ferrosilicon rose steadily. However, the downstream demand was mediocre, and it may continue to be weak in the short term. Current cash quotation including tax of 99.9% magnesium ingots in Fugu area was around 14100 yuan per ton.