[Ferro-Alloys.com]
Supply constraints weighed on US and Canadian coking coal exports in July, trade data show.
US coking coal exports in July fell by 9.3pc compared with 2020 and by 20.3pc from a month earlier to 3.08mn t, while Canada's exports rose by 13.5pc from a year earlier but fell by 22.3pc from June to 1.9mn t in July.
US January-July exports totalled 23.07mn t, 4.5pc higher than a year earlier but 18.9pc lower than in 2019, a sign of tighter supply in the country.
In Canada, a wildfire in British Columbia on 30 June damaged rail lines that serve major producer Teck's coking coal mines, and the company forecast a 500,000-800,000t drop in third quarter sales as a result.
Canada's shipments to China were stable on a monthly basis at 893,243t, registering an annual increase of 246pc. But shipments to traditional Asian markets India, Japan, and South Korea fell by 46.2pc, 44.2pc, and 81pc to 173,497t, 281,900t, and 59,400t, respectively.
US exports to China fell by 21.5pc on a monthly basis to 1.13mn t, having shipped no coking coal to China in July 2020. But US exports to China in January-July rose more than tenfold to 5.5mn t. In contrast, shipments to major markets including Brazil, Ukraine, Japan, India and South Korea fell significantly compared with a year earlier.
US shipments to the EU fell by 33.9pc compared with a year earlier to 516,583t in July, while Australian shipments to the EU almost doubled over the same period to 1.5mn t.
US shipments to Brazil fell by 25.2pc from a year earlier to 343,337t in July, while no shipments were made from Canada to Brazil, and Australian shipments to Brazil also fell, by 24.5pc to 302,742t, with Brazilian buying likely to have been limited by rising global coking coal prices. The Argus daily fob Hampton Roads assessment for low volatile coking coal rose to $234.50/t at the end of July, the highest since April 2017, while the high-volatile A coking coal assessment reached a 27-month high of $201/t.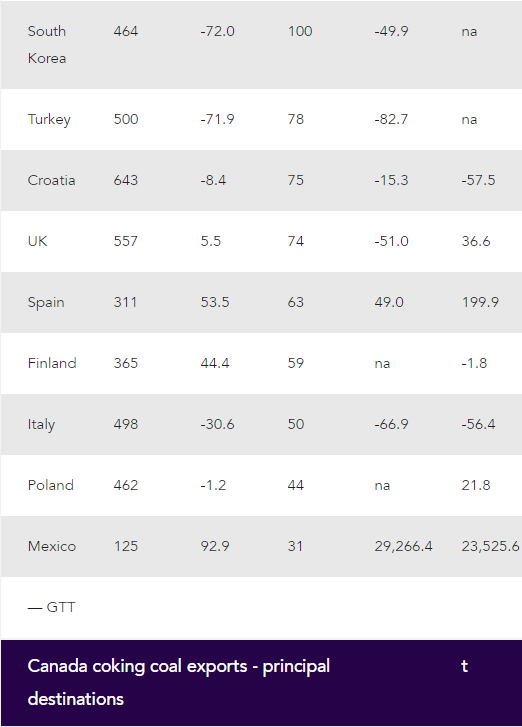 Source: argusmedia