South Korean steelmaker Posco has raised its tender price for a supplementary purchase of manganese flake in response to consecutive rises in spot prices over the last few weeks.
Posco's tender price for around 2,000t manganese flake yesterday rose to $2,443-2,463/t cif South Korean ports for January delivery, up from $1,999/t from a tender it issued in the middle of December.
The firm secured only 2,000t of flake although it had planned to buy 2,622t, as many producers withheld material from sales on expectations of higher prices in the near term.
Posco on 16 December secured only about 1,000t of the material, while it planned purchase 5,244t for January delivery.
Posco typically imports 3,500-5,000 t/month of manganese flake from China, making it one of the biggest flake consumers outside of China.
Spot prices have increased by 10.8pc from the start of January, with the range for 99.7pc grade flake assessed at Yn15,300-15,500/t ex-works today, up by Yn300/t from 11 January and by Yn500/t from 7 January.
Export prices were assessed at $2,400-2,500/t fob today, up from $2,350-2,400/t on 11 January and $2,280-2,330/t on 7 January in line with the rise in domestic prices.
Key producers in the manganese industry alliance led by the country's largest smelter Ningxia Tianyuan held a meeting on 9 January and agreed to carry out a 60-day output suspension with mutual supervision in 2021 in an effort to support prices, according to market participants. This has encouraged producers to float higher prices.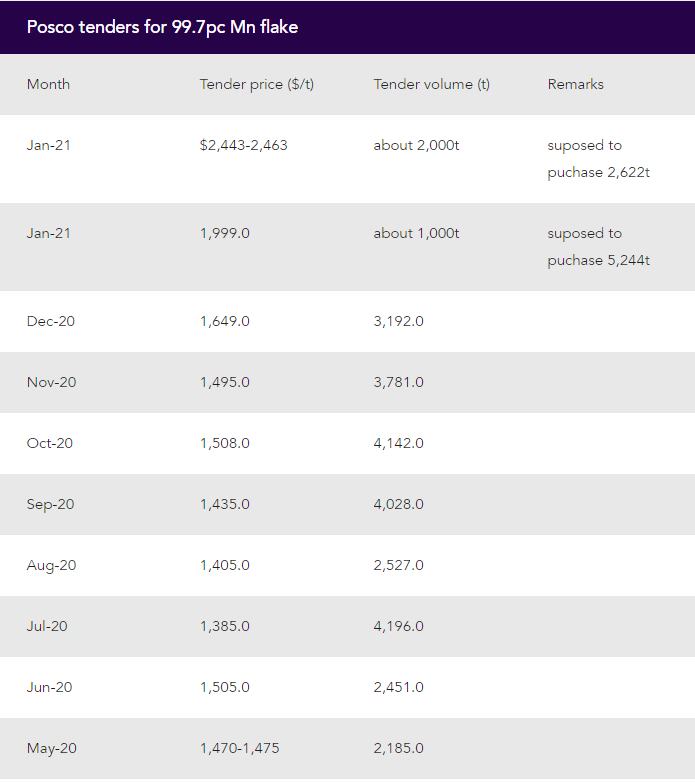 Source: Argusmedia